Be A Stunning Bride With HydraFacial® MD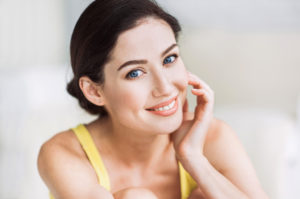 Exfoliation, cleansing, deep pore extraction and hydration are essential to any regimen that improves skin health. Giving your skin each of these elements could require several different treatments, but not with HydraFacial® MD. In just one quick and relaxing appointment, you can give your skin all of the attention and pampering that it needs to be healthy and radiant for your big day.
What is HydraFacial® MD?
HydraFacial® MD is a multi-step treatment that takes only 30 minutes yet provides exceptional rejuvenating effects. Your skin is radiant, healthy and free of clogged pores, blemishes and dryness. If you have a specific skin concern, such as acne, your HydraFacial® MD treatment can include a unique boost serum.
What Happens During a HydraFacial® MD Treatment?
HydraFacial® MD involves three steps that use an innovative technology to cleanse, extract and hydrate your skin.
The skin is cleansed with a special instrument that removes the outermost layer of skin, including dead skin cells. This opens up the pores.
A combination glycolic and salicylic acid peel is applied to the skin for just a few minutes.
Using a unique vortex extraction technology, the HydraFacial® MD handpiece removes dirt, oils and bacteria that are trapped deep inside the pores.
At the end of the treatment, serums are applied with a vortex-fusion handpiece to hydrate and nourish the skin.
What Can Be Treated with HydraFacial® MD?
We recommend HydraFacial® MD as an effective skin maintenance treatment for all skin types. The procedure also addresses common problems, such as:
Enlarged pores
Rough texture
Fine lines and wrinkles
Uneven skin tone
Dull complexion
Acne
Laxity
Clogged pores
Oily skin
When Will I See Results?
After just one treatment, you see a noticeable improvement in your skin after five to seven days. We recommend that you schedule HydraFacial® MD treatments each month to keep your skin healthy and beautiful.
Have You Heard About HydraFacial® MD? Contact Dr. Benjamin Lam.
Schedule a consultation for HydraFacial® MD, dermal fillers, hyperbaric oxygen therapy and other treatments that will make you the most stunning bride ever. Contact Dr. Benjamin Lam today to schedule a personal consultation in our office or you can schedule a virtual consultation. Our office is located in Langhorne, Pennsylvania, and you can contact us directly at (855) 702-8600.