Are You Tired Of Your Man Boobs?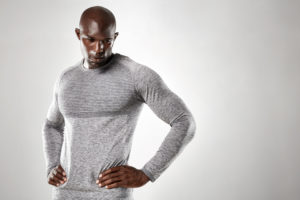 Men are expected to have masculine, toned bodies that include a muscular chest area. Many experts explain that exercising with weights will give a man the upper body that he should have, yet nature does not always go along with that plan. Some men find that no matter how much they work out, they still have breasts that are more feminine in appearance. If you are a man with enlarged breasts, we have good news. The problem is not related to your exercise routine and eating habits, but gynecomastia, a medical condition that causes breast enlargement in men.
Gynecomastia: The Reason that Some Men Have Breasts
As you may know, hormones are responsible for regulating almost every function in the body. Any deficiency or imbalance of hormones has far-reaching implications. The seemingly odd symptoms that are produced by hormone imbalances make conditions difficult to diagnose and treatment. Gynecomastia is one of the many medical problems that arise due to hormone imbalances in men. Addressing the problem with hormone therapy may have some effect, but the side effects of treatment may outweigh the benefits.
Male Breast Reduction
Male breast reduction is a cosmetic procedure that removes the excess fat, skin and breast tissue that are related to man boobs. The surgery is recommended for men who have tried to tone their chest areas with exercise but continue to have breasts that are more feminine in shape and size.
What to Expect from Gynecomastia Surgery
Making cosmetic improvements to the male physique requires techniques that maintain a masculine form while correcting aesthetic concerns. Gynecomastia surgery involves surgical removal of tissue combined with liposuction to sculpt the chest area. For men who have very limited excess tissue in the breast area, liposuction alone may be adequate. Recovering from gynecomastia surgery can take several weeks, so you should plan to take some time off from work and your more intense activities, such as working out and sports.
Learn More About Male Gynecomastia Surgery. Contact Dr. Benjamin Lam.
Why live with man boobs when you have an option to sculpt your chest area? To learn more about gynecomastia surgery, rhinoplasty, non-surgical body contouring with CoolSculpting® and our other services, contact Dr. Benjamin Lam to schedule a consultation at our office in Langhorne, Pennsylvania. You can reach us at (855) 702-8600.