Getting Ready for Halloween with a Treatment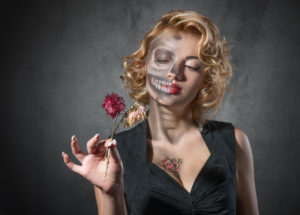 One of our favorite things about fall is how it gets us ready for a season of parties. New Years Eve, Christmas, and Thanksgiving all have to wait until Halloween is over. And, trust us, we're making the most of Halloween this year!
Whether you're hosting a party or simply attending, it's important to start planning early enough to get everything you need without rushing. In fact, we know some very on-the-ball people who have been thinking of costume ideas since August! There's still plenty of time to get ready for your own soiree, though.
One of the ways we love to get ready for party season and the overall holiday season is with a treatment or two. Feeling and looking our best always ensures we have a good time and can focus on reconnecting with people. We don't have time to be self-conscious! In fact, you might not have time for certain treatments you're looking for, but we have some great options to give you the results you're looking for!
Keep reading for some of our favorite pre-holiday season treatments that require minimal downtime but pack a serious punch in the results department.
Hydrafacial
Are you looking for a little something more than a regular facial? Hydrafacial is an amazing treatment to help detoxify the skin and help it look more youthful and glowing. Get ready for the compliments to come rolling in.
Microneedling
One of the most amazing treatments that targets so many problem areas, microneedling is a go-to for people who are trying to treat a few things at once. Microneedling activates cellular regeneration to help treat the appearance of acne scars, fine lines, photo-aging, dull skin and poor texture.
Injectables
Whether you're looking to add a little volume to lackluster lips or sculpt more chiseled cheekbones, injectables can be a quick way to boost your youthful appearance. No surgery required, injectables require very little if any downtime. If you're looking for a treatment but don't have time to stay home and heal, injectables are for you.
Call us today at (855) 702-8600 to schedule a consultation, and we can help you find the best treatment for you.