Alexis Kovacs is an award-winning tattoo artist with 20+ years of experience, including permanent cosmetics and medical tattooing.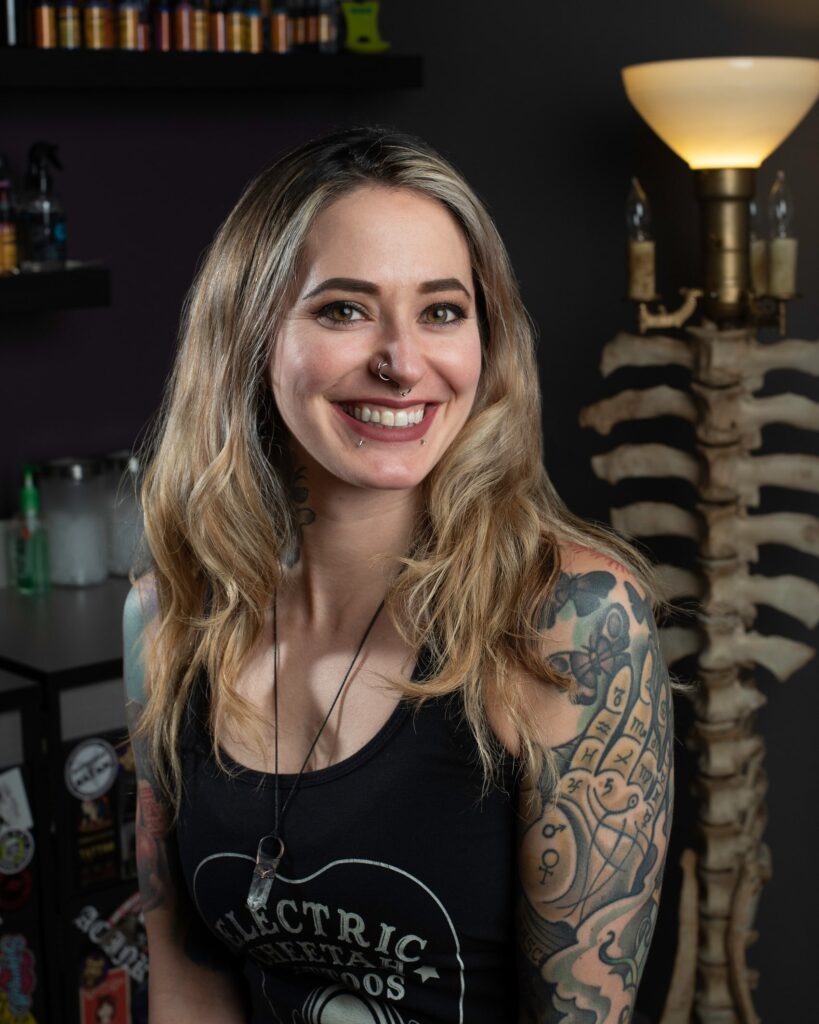 In 2003, Alexis received her bachelor's degree in Fine Arts from Kutztown University. For the next 8 years, she went on to hone her art skills at many tattoo shops across the US until opening her own business in 2011. Alexis is a professional classic tattooer by trade but has a broad range of education within the tattooing industry, specifically permanent cosmetics and medical tattooing.
Alexis is also a renowned permanent makeup artist, having obtained her permanent cosmetics certification in 2004. For over a decade, she has partnered with local plastic surgeons to provide women with postsurgical tattoos, such as areola restoration and camouflaging of scar tissue. She is also one of the first artists to specialize in postsurgical tattoos for transgender individuals.
Alexis travels to tattoo conventions worldwide and has received many awards, including Tattoo of the Day, Best Color Tattoo and Best Portrait Tattoo from. She has also been featured in Ink Slingers magazine, Tattoo magazine, Ink 24/7 magazine and Tattoo Society Magazine and her business has also been included in several local publications. In 2012, she was featured on Oxygen's tattoo competition series, "Best Ink," where she took second place, and in 2019 she appeared on Paramount's Ink Master series season 12. Alexis is one of the leading permanent makeup/medical tattooers in the country. Her services include traditional permanent makeup such as eyebrows, eyeliner, lip liner and microblading. Her medical tattooing involves scar camouflaging, scalp micropigmentation, areola micropigmentation and gender confirmation tattooing. Alexis also works with several leading reconstructive plastic surgeons doing medical tattooing. Click here to see before and after photos of previous patients.
PERMANENT MAKEUP PROCEDURES
EYELINER TOP AND BOTTOM
EYELINER TOP
EYELINER BOTTOM
WINGED UPPER EYELINER
STARDUST EYELINER TOP AND BOTTOM
STARDUST EYELINER TOP
STARDUST EYELINER BOTTOM
PERMANENT EYEBROW SOFT FILL
POWDER BROWS
OMBRE BROWS
MICROBLADING
SOFT LIP LINER
MEDICAL TATTOOING PROCEDURES
AREOLA PIGMENTATION
HYPER REALISTIC AREOLA PIGMENTATION
TRANS SPECIFIC GENITAL TATTOOING / CONSULT
SCAR CAMOUFLAGING / CONSULT
SCALP PIGMENTATION / CONSULT
Eyeliner can be done either thick or thin, creating either a dramatic or natural look. A very thin stippling can also be done within the lash line to create a "lash enhancement" look. The stardust eyeliner is done by creating a smokey look using stippling.
Eyebrows are done by creating the shape to the clients liking and then making a powder style fill which is called a soft fill. Hair strokes can be added for a more natural look by combining this with microblading which we refer to as an ombre brow. The powderbrow gives the effect of a brow that goes light towards the inner brow and then darkens towards the tail. This is done with stippling.
Lip liner is done by following the natural lip line and feathering inward to create definition and a soft blend.
Microblading creates a very natural look and gives the appearance of thin hair strokes throughout the brow. It is not as permanent as the traditional eyebrow tattooing and may require more touch-ups.
Medical tattooing is the perfect compliment to put the finishing touch on a surgical procedure. It can also be used to achieve a desired look to minimize scarring or replace pigment when needed, particularly in people who have lost them as a consequence of old age, disease, such as alopecia totalis, chemotherapy, or a genetic disturbance, and to disguise scars and white spots in the skin such as in vitiligo. With over 14 years of experience, Alexis Kovacs is one of the leading artists in the country performing medical tattooing. Her services include traditional permanent makeup such as eyeliner, lip liner, and eyebrows, microblading, scar camouflaging, breast reconstruction tattooing, scalp pigmentation, and trans specific tattooing.
Scalp pigmentation achieves the look of hair follicles by stippling in areas where hair on the head is missing due to baldness or transplant scarring.
Scar camouflaging is done to darken areas of the body that are either missing pigment or to lighten where scarring has become red or dark. It is case specific and in some instances cannot be done due to certain issues and requires a consult.
Breast reconstruction tattooing is also used to restore or enhance the breast's areola, such as after breast surgery. It can also be done cosmetically in instances where the areolas need more pigment or are misshapen or do not match each other.
Trans-specific tattooing is an excellent option for pigmentation optimization after vaginoplasty to further define the labia and bring the final coloring closer to the natal female vagina. For transmen, nipple pigmentation can become uneven or misshapen over time and tattooing can improve symmetry, shape and pigmentation.